The company - Microtronics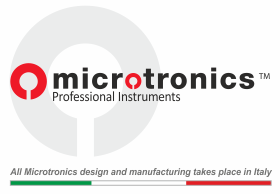 Microtronics is an Italian company that has been operating in the sector of Electronic Instruments for more than 10 years with skill and innovation.
Thanks to the experience gained in the dynamic industrial setting of north-eastern Italy, and the numerous partnerships with major international businesses, Microtronics now offers 360 degree management of design, development and production of instruments and software.
Each single Microtronics product undergoes rigorous testing of all functions before leaving the factory, and is covered by a warranty of two years from the date of purchase.

Our mission:
We use the latest electronic technologies to create, with expertise and passion, our measurement instruments. The result is practical, solid and functional devices designed to solve very specific technical problems, aimed at a clientèle of companies and qualified professionals, who can always count on a highly professional after-sales service, available at all times.